Posted by Freeway Auto Body on Nov 28, 2017 in Blog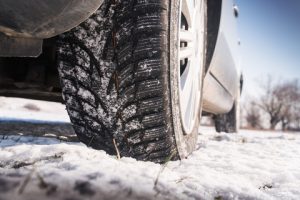 Whether you like it or not, the cold weather is on its way! Minimize your chance of a breakdown or collision by making sure your vehicle is ready to take on the drop in temperature. Join Freeway Auto Body as we highlight four tips you can use to prepare your vehicle for the winter months ahead.
1. Make Sure You Can See
Before the snow starts to fall, take note of your windshield and wiper blade situation. Do you have a large crack in your windshield that obstructs your vision? Maybe your wiper blades are no longer effective and just move the dirt and snow around rather than effectively clearing it. Snow and rain make it tough enough to see as it is, so make sure you're replacing your windshield and wiper blades as necessary. A couple other tips you can do to help improve visibility include:
Making sure your windshield washer fluid is topped up
Checking that your heater and defrost are in good working order
2. Check Your Battery
Now's the time to make sure your battery is in good working condition, as it's tougher for a battery to start an engine in cold weather. A repair shop can test your battery's ability to hold a charge, make sure the cables are firmly attached and check for corrosion on the terminals.
3. Build a Vehicle Emergency Kit
Breakdowns and accidents happen all year round, but they can have more serious impacts in the colder months. Consider creating an emergency kit that you can keep in your vehicle to help protect you in the event that help takes a while to arrive. Some items that you'll want to make sure you have in your kit include:
Blanket
Boots, gloves, and other warm clothes
A small shovel
Flashlight (and extra batteries!)
Jumper cables
First aid kit
This kit will help you to brave the elements if you find yourself stranded for an extended period of time.
4. Switch to Winter Tires
Winter tires are a great investment if you live in an area that gets a lot of snow or ice. As soon as the temperature drops below -7 Celsius, winter tires are going to outperform all-season tires. Winter tires help improve your ability to brake in icy conditions and help you get out of that deep snow thanks to their soft rubber and deep treads.
Contact Freeway Auto Body
If you find yourself dealing with the aftermath of a winter collision, you can trust the experts at Freeway Auto Body to return your car to its original condition. Learn more about our repair process, or give us a call to get a free quote today!