Posted by Freeway Auto Body on May 15, 2018 in Blog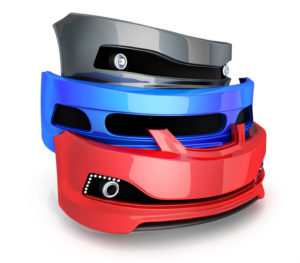 When contemplating new parts or upgrades for your vehicle, your first thought is probably not "I should invest in a better bumper". What many people don't realize, however, is that the bumpers play quite an important role – and not all bumpers are created equally.
The biggest difference that needs to be taken into consideration when choosing a bumper is the material it is made from, but the size and shape of the bumper are important as well. This can vary depending on what make the vehicle is, the age of the vehicle, or whether the current bumper is original or aftermarket.
Keep reading below to learn the differences between the available options and which make for the best type of bumper.
Different Types of Bumpers
Materials
Plastic – most factory-installed bumpers (on new vehicles) are plastic. They are the most cost effective option, but are not made to support aftermarket accessories and can be difficult to fix (often needing the entire bumper to be replaced rather than being able to fix only the damaged area).
Steel – older vehicles typically have original steel bumpers. Steel is very durable, allowing the addition of various accessories, but it is very heavy and comes with the potential for rust and corrosion.
Fiberglass – this is the most common material used by aftermarket producers, as it is lightweight and durable, virtually unaffected by the elements, and is easy to sand and paint, making scratches easy to fix. The biggest downside is that fiberglass tends to crack rather easily – which is not the greatest quality in a bumper, especially if you are prone to fender benders or backing into things.
Carbon Fiber – carbon fiber is another durable and lightweight material commonly used in aftermarket bumpers that is easy painted and repaired. The biggest setback here is the heavy price tag.
Aluminum – a lightweight option that is safe from the elements and allows you to fit your vehicle with a number of aftermarket accessories, aluminum is becoming a more popular option. The only noteworthy con is that they may not fair well for off-roading, as they won't win in a fight against a rocky terrain.
Styles
The best style and shape of bumper for your vehicle will depend on what you intend on using the vehicle for. Some of the most common options available include:
The factory bumper, which is typically a standard shape and offers no real added benefits.
Drop bumpers, which are most commonly found on trucks because of their heavy towing capacity and lower hitch ball height.
Step bumpers, used on trucks, vans, or SUV's, have a small cutout in the center that resemble a step and are capable of towing lightweight trailers or boats.
Time To Choose
As you can see, there is no real answer to the question of which type of bumper is "the best".
The bumper that will be the best option for your vehicle may not suit the needs of another. The best way to choose what style and material of bumper you should invest in depends highly on what type of vehicle you are driving and what you will be using the vehicle for. Whether it's a fancy sports car meant for cruising downtown, an old SUV for off-roading through the mud, or a half-ton pick up truck for hauling your big-boy toys, there is a bumper out there that will work for you.
To get more information about all things bumpers, call or visit Freeway Auto Body today!