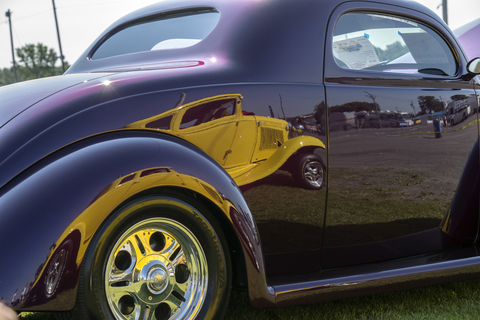 Posted by Freeway Auto Body on Feb 15, 2019 in Blog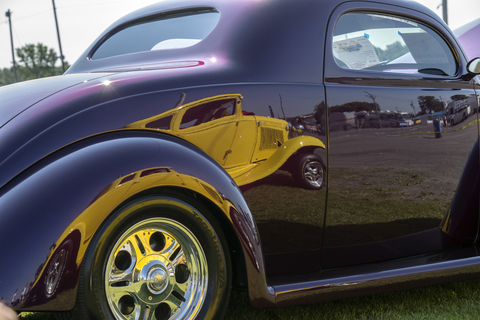 The Pros & Cons of Different Types of Auto Paint Finishes
If you're looking to get your vehicle painted you'll soon learn that there is so much more to consider than just the colour. There are a bunch of paint finish options available these days, and choosing which one to go with can easily become quite overwhelming. Each finish consists of a unique chemical formula that is meant to achieve a certain look. Understanding the types of paint finish that are available to you will help you find the best finish to suit your needs. Read on as we discuss the most common paint finishes, and the pros and cons of each.
First Step, Primer
Before anything, a layer of primer will always be put down on your vehicle to prepare it for painting. Primer is what helps the rest of the paint to stick and bond consistently across the vehicle. Choosing to go without a primer will result in flaking or chipping down the road.
Acrylic Lacquer
From the late 1950s to 1980s, acrylic lacquer was the most sought-after automobile paint thanks to its extremely glossy finish. While you may not see as many vehicles driving around today with an acrylic lacquer finish, it remains extremely popular with classic and antique cars. Acrylic lacquer works best when it is applied through a spray gun. Due to its chemical nature, more coats of paint are required to achieve a consistent look.
Pros:
Easy to apply
Catches less dust and dirt as it has a faster drying time
Provides maximum shine
Cons:
Requires regular buffing to maintain its shine
Not considered a long term paint. It will fade quickly when exposed to UV light.
Pearlescent
Pearlescent finishes consist of a solid base color, with an additional layer of alternate colours that contain mica pearl flakes. These flakes reflect and refract light, changing the colour of the vehicle depending on the light and angle you're looking at it in. This finish first became popular during the hot rod scene in the 1970s.
Pros:
Provides a unique finish that is sure to make your car stand out
Cons:
Expensive
Difficult to apply, and therefore is not recommended for DIY painters.
Can be expensive and difficult to repair any damage
Metallic
Metallic finishes first hit the scene in the 1960s. The only difference between this finish and a solid acrylic finish is that metallic finishes have a small quantity of powdered metal added. The metal particles in the paint pick up and reflect more light, giving your car a seriously cool shine (so long as you keep it clean).
Pros:
Better at hiding damage due to its highly reflective nature
Provides a unique effect for an eye-catching car
Can increase the resale value of your car
Cons:
Expensive
Difficult to colour match, making any repairs tough
Minimal colour choices
Enamel Paints
Enamel paint is a common choice for many drivers thanks to its ability to stand up to the elements. It has a heavier body, which provides a certain hardness to the vehicle after application. While it's not the cheapest option, enamel paint is still cost effective and provides a finished, clean look.
Pros:
Durable – does not fade or chip easily
Cost effective
Available in many different styles
Cons:
Does not dry on its own; requires the paint to be baked into the car
Difficult to apply. If the coats are applied too thick, the paint can pool and peel once it's dry.
Matte
Matte finishes are not very common, and if you do see a matte finish, it's probably in a grey or black shade. There are a few ways to achieve the dull, non-shiny look, including using a high epoxy content primer coat, using a high PVC content paint, or using a flattening agent in the clear coat. This finish is not recommended for drivers who aren't interested in putting in some time maintaining their car's appearance, as matte finishes require special care when it comes to washing and preserving their look.
Pros:
Cons:
Difficult to apply, and you can't buff out imperfections
Requires special care when washing
Urethane
Urethane paints are known for their heavy-body base and longevity. This type of paint is often applied on engine parts because it is durable and able to withstand high temperatures. Urethane paints are an extremely common choice when it comes to automotive paint, and many professionals prefer urethane to acrylic paint nowadays.
Pros:
Affordable
Dries quickly, which minimizes the amount of dust collected
Durable – does not easily fade or chip
Cons:
Can have a plastic like finish, which some people find cheap looking
Requires proper protective gear to apply due to toxicity
Speak to a Professional
If you're considering painting your vehicle, give the team at Freeway Auto Body a call. Our expert staff will educate you on your options to make sure you are satisfied with the end result. Call or visit us today!