Posted by Freeway Auto Body on Mar 2, 2018 in Blog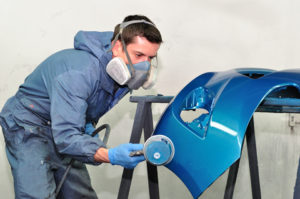 COST
DIY, when it comes to the sticker price, is usually the winner by a clear margin. Do-it-yourself kits are priced competitively to encourage widespread use of the product and customer loyalty. Their value decreases depending on how much upkeep the repair requires over time.
Professional painting and paint repair can be more expensive initially, but it is often more resilient than the alternative. Also, certified and trusted businesses like Freeway Auto Body do not inflate prices or charge hidden fees– you are only paying for work done by trained experts!
TIME & LABOUR
DIY suffers here due to the difficulty of knowing how you value your own time and effort at any given moment. If you have the space, care and precision, this may be the right option for you.
Professional usually takes this round– there a lot you can do with the time gained by trusting your vehicle with Freeway's efficient, experienced technicians. Having professionals take the lead means you are free to focus on work, family or even a day off!
RESALE VALUE
DIY repair, when done perfectly, can be almost indistinguishable to an untrained eye. If you plan on selling your vehicle privately, this might be your best option. Unfortunately, do-it-yourself work does not always stand up to a direct comparison with the professional alternative.
Professional repair work, thanks to industry standards, almost always lives up to even the closest of inspections. This is definitely the right path if you want to optimize the resale value of a vehicle or trade it in to a dealership.
GUARANTEES
DIY kits may come with a manufacturer's warranty, but this is usually only for the raw materials and not the repair you perform with it. Dealing with a large corporation can also be confusing and demoralizing, leading consumers to abandon the compensation they deserve.
Professional repair, like we do here at Freeway, is backed by the reputation and guarantee of management and our employees alike. Each of us knows how important your dollar is and our number one priority is giving you maximum value with the highest level of customer service and satisfaction.
DIY vs the professionals– there will always be a debate! At the end of the day, it is up to you to judge the pros and cons… Choose what's best for you! If you have any hesitations about the services we provide, contact Freeway Auto Body today and let us put your mind at ease.