Posted by Freeway Auto Body on Jun 8, 2021 in Blog
When you think of summertime in Edmonton, most people think of long sunny days, road trips exploring Alberta, and spending time outdoors with loved ones.
Most of us don't think about hail. Freeway Auto body wants to keep it that way. If your vehicle does experience hail damage, let our Edmonton auto body and Paintless Dent Repair (PDR) experts worry about repairing it so you can continue enjoying all that summer has to offer.
Hail Damage in Alberta
66% of Canada's major hailstorms occur here in Alberta, earning us the distinction of Canada's "Hail Alley". And according to AMA, 51% of insured losses due to summer storms since 2000 have occurred here in Alberta! Hail damage to your vehicle can be hard to avoid in Edmonton but Freeway Auto Body is here to make repairing hail damage quick and easy.
Hail Damage repair techniques, like vehicles themselves, have changed a lot since we 1st opened our doors in 1969. At Freeway Auto body we use the latest auto body techniques and specialized tools to ensure hail damage, and dents are repaired properly.
We have over 50 years of experience handling everything from major collision damage to small dents and scratches.  Hail damage repair can be done on its own, or when you bring your vehicle in for other services like installing paint protection film, headlight restoration, windshield repair and replacement, detailing, and more.
At Freeway Auto Body, we make the whole process quick and easy. It's 2021, you expect things to be convenient, and we make sure they are. Starting with a free online auto body quote. Once you're ready to bring your vehicle in, our friendly staff will explain every step of the process and take care of everything for you. Including dealing with your insurance company.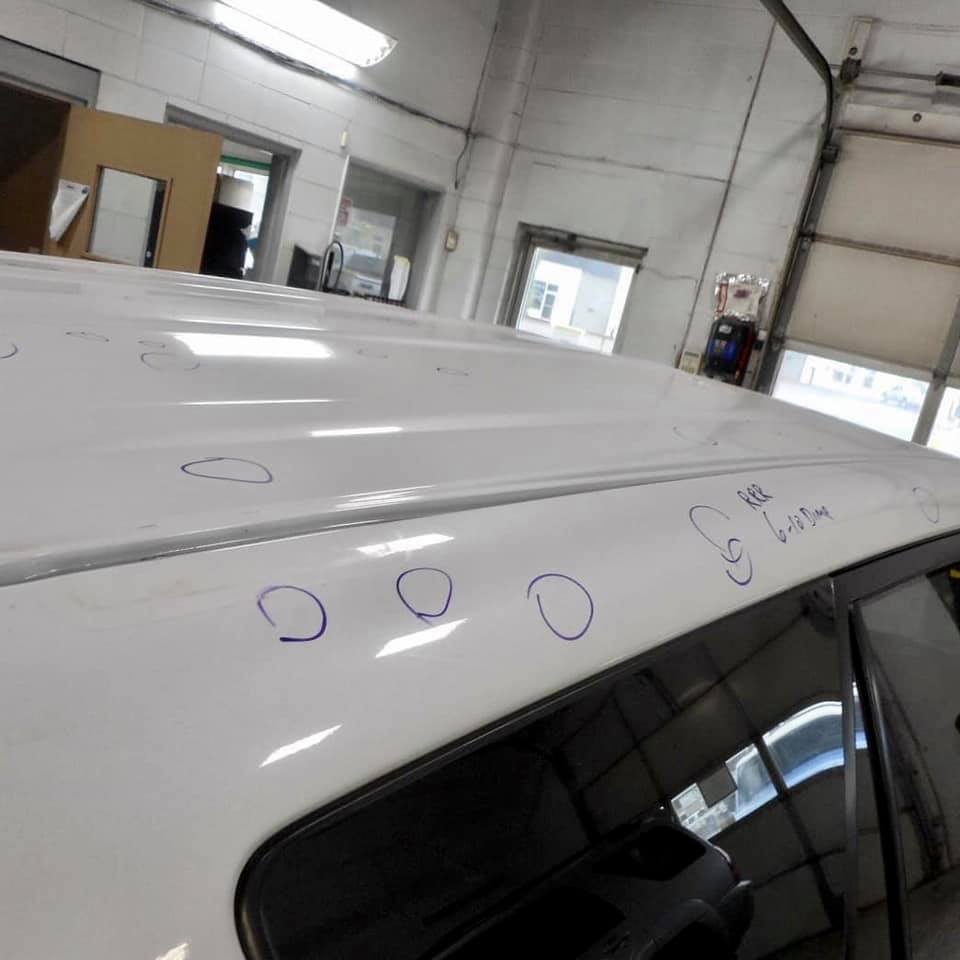 Insurance Claims for Hail Damage
PDR for hail damage is covered under the comprehensive section of your insurance policy. Typically, the deductible is only half of what your collision deductible would be. Our team is happy to answer any questions you might have and help you navigate your insurance claim.
Exercise Free Choice, Choose Freeway Auto Body!
And remember, you have the legal right to choose the auto body shop you want to use, even if your insurance company wants you to use an auto body shop they recommend. Support a truly local Edmonton auto body shop and exercise free choice, choose Freeway Auto Body.
Our reputation for auto body excellence has been built one customer at a time and we have the reviews to prove it. We're so confident in our work that we offer a written lifetime guarantee on everything we do so that you can be assured that the repairs were done right.
Click here for a free auto body estimate or contact us today at (780) 465-4181 or info@freewayautobody.ca. Our friendly team will be happy to walk you through every step of the process.