Posted by Freeway Auto Body on Nov 15, 2018 in Blog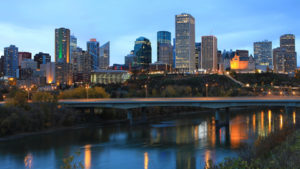 According to Edmonton's annual motor vehicle collisions report, there were 23,900 collisions within the Edmonton city limits in 2017, a 3.3% increase from the previous year. This is despite there being fewer vehicles on the road! As the city's population continues to grow and infrastructure evolves and changes to accommodate, the opportunity for collisions increases.
This doesn't mean that collisions can't be prevented. We've pulled some of the most compelling facts, numbers, and details to put together a quick guide to collisions in Edmonton, along with some key tips for avoiding them.
The Culprits
While it's easy to blame poor road conditions for collisions, the reality is that driver behaviour and poor judgement are the true culprits. Here were the top causes of collisions in Edmonton in 2017.
Following too closely
Following the car ahead too closely is the number one collision cause in city intersections, accounting for approximately 46% of all intersection collisions in 2017. Though not as prominent in mid block collisions, tailgating still accounted for a sizable 24% of collisions.
Hitting a parked car
Sometimes parked cars really do seem to come out of nowhere. Hitting a parked car was the most common cause of mid block collisions in 2017, though it did account for a handful of intersection collisions as well. Though typically causing less injuries than other types of collisions on this list, hitting a parked car can definitely cause some serious damage to a vehicle.
Improper lane change
This includes lane changing in the middle of an intersection, or changing lanes across a solid line. These types of collisions are often a combination of not knowing or not following the rules of the road, and impatient drivers taking unnecessary risks.
Left turn across path
Yes, the simple act of turning left resulted in nearly 7% of traffic collisions in 2017. Common instances include drivers "racing the light" and trying to squeak in a left turn on a yellow, or drivers failing to properly judge the amount of time and distance they had to make the turn.
Traffic sign or signal violation
We've decided to put all of the different sign and signal violations into one category including stop sign violations, yield sign violations, and traffic light violations. Nearly everyone has witnessed someone come to a rolling stop at a stop sign, or a driver speed up
Collision Hot Spots
Anyone who's been living in Edmonton for a few years is likely to know of some of these notorious roads and intersections. Here are some stats along with insights as to what makes these streets and intersections prime for collisions.
Intersections:
The traffic circle at 107th Ave & 142nd Street – 88 collisions in 2017, most of which were caused by tailgating
149th Street & Yellowhead Trail – 81 collisions; just one of 4 intersections along the Yellowhead to make the top ten list
23rd Avenue & 91st Street – 68 collisions; as more subdivisions emerge on the city's south side congestion and traffic volume continue to grow in these areas
34th Avenue & 91st Street – 65 collisions; just a few blocks north of the number 3 intersection
97th Street & Yellowhead Trail – 61 collisions; the second of 4 intersections along the Yellowhead
Roadways:
High Level Bridge – 33 collisions; the stop-and-go traffic patterns on this bridge certainly play a role in the high number of collisions
Calgary Trail (between 39A Avenue & 34th Avenue) – 22 collisions; increasing traffic volume coupled with the occasional rush hour train makes this location prime for collisions
Whitemud Drive (between 149th Street & Quesnell Bridge) – 22 collisions; another bridge-related location, traffic tends to slow down here during rush hour particularly if the roads are slippery
Gateway Boulevard (between 31st Avenue & 34th Avenue) – 21 collisions; just a few blocks south of the number 2 location and plagued with similar issues
Walterdale Bridge – 19 collisions; yet another bridge location, the traffic lights located at the end of the bridge along with significant traffic volume create the right conditions for collisions.
Collision Primetime
When breaking down collisions by the month, it's no surprise to see that November, December and January had the highest number of collisions, taking into account weather changes and poor driving conditions. December also happened to have the highest number of fatal or injury-causing collisions as well.
If you're trying to avoid collisions, you may want to take extra care on Fridays. As everyone rushes home to start their weekends, the tendency for collisions seems to increase. Unsurprisingly, the peak times for collisions were during the weekday rush hours; between 8am and 9am, and 5pm to 6pm.
Avoiding Collisions
While sometimes collisions are unavoidable, there are a number of steps drivers can do to reduce the likelihood of being involved in one. Here are some crucial tips for ensuring that you
Pay attention
It only takes a split second for the road ahead to change. A vehicle suddenly stopping, someone pulling out in front of you, or a pedestrian entering the road can happen in an instant. If you're not paying attention even for a second, it could be long enough to result in a collision.
Distracted driving is an absolute "no". Put away the phone and pull over if you need to look at a map or get directions. If you're talking on the phone via a hands-free device, be extra alert. While less distracting than a traditional cell phone, a hands-free conversation can still pull your focus from the road.
Finally, be aware of your surroundings. Knowing that there is a playground nearby is a clue that you should pay extra attention and watch for children. Noticing a construction zone up ahead is an indication that you'll need to slow down, and drivers may brake suddenly. Checking your rear- and side view mirrors regularly will help you keep an eye on drivers around you and clue you in to their behaviours.
Drive to the weather and road conditions
The experienced driver occasionally forgets that they need to adapt to winter driving conditions. This is especially true during the first major snowfall of the year.
The time and distance it takes for your vehicle to stop will increase when the road is icy, regardless of whether or not you have winter tires and 4×4. With that in mind, you'll need to leave extra room between you and the vehicle ahead. You'll also need to brake sooner before traffic signals and intersections.
Something driver's often forget about is the lack on traction while moving from a stop. This can add a second or two to the time it would normally take you to turn or clear and intersection. As mentioned above, a second is really all it takes to cause a collision. Allow yourself additional time to get started. If it's a close call, wait until you're absolutely sure that it is safe for you to proceed.
Snow and ice aren't the only conditions you need to adapt your driving to. Excessive rain can lead to hydroplaning. Windy conditions will likely require additional concentration to avoid drifting between lanes.
Take your time
This ties in to the above point as well. Slow down and take your time getting to your destination. If you have a tight timeline, it's best to leave early and give yourself additional time to get there. Like anything else in life, rushing is likely to lead to mistakes. Something that seems minor, like speeding or forgetting to signal, can be enough to cause an accident.
Whether you find yourself in a fender benders or you're in need of more serious body repairs, the experienced team at Freeway Auto Body can help! Contact us today to book an appointment!