Posted by Freeway Auto Body on May 15, 2019 in Blog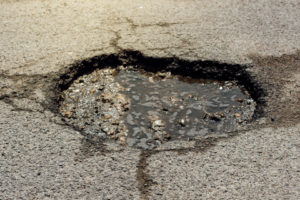 Spring is one of the most anticipated seasons of the year especially because it marks the end of winter. You no longer have to feel bogged down by thick winter jackets and heavy boots. And the winter blues that made you stay in most times instantly disappears. Suddenly, you want to walk the parks, go sightseeing and just enjoy the most beautiful blooms of nature in Edmonton.
It's also the perfect time for that long road trip you've been dreaming of all winter. Speaking of road trips, do you know how Edmonton's Spring affect your car?
You often worry about the effects of the brutal winter weather conditions on your car. So you take extra precaution to protect your car in winter. But you should consider the effects of spring on your car too. Edmonton roads are not spared the brutality of winter. The roads carry loads of ice throughout the winter.
Then there comes an abrupt change to spring and the thawing process begins. We know how the spring weather goes in Edmonton. It's never predictable. In one day, you can experience temperatures associated with all four seasons. So you better be prepared to shed your clothes to cool down or have that jacket for extra warmth.
Potholes
The main drawback of spring for many people is the hay fever and allergies that it brings. As for cars, they have to face many potholes that result from the fluctuation of temperatures. During warm spring days, the road expands and then contracts at night. Hence, this causes the road surface to crack under the weight of cars and trucks. Then, before you know it, you're bumping into many humongous potholes.
We all know that potholes are no good for cars. It is one of the biggest road hazards that motorists have to deal with on Edmonton roads. In spring, drivers have to be extra cautious to avoid potholes. Otherwise, they could end up spending thousands of dollars on car repairs. Pothole damages include:
severe tire damage
bent rims
a steering system misalignment
wear on shocks and struts
suspension damage
engine damage
Pothole damages can be extremely expensive so it's best to avoid them as best as you can. Hence, you should be aware of the steps that you can take to help your vehicle survive the pothole season.
2. Rain Brings Rust
Is the saying true that "April showers bring May flowers?" I guess it's true for some places but spring in Edmonton is a little different. The days are warm and mostly sunny with occasional periods of rainfall. So with warmer weather, you can check your car for wears and tears caused by the sudden change in season.
Your car 's exterior can be seriously damaged by snow and hail in winter especially if you park outdoors. So it's important to check that your car's paint job is still intact. Exposed metal on your can lead to severe rust especially when these rusts are exposed to the spring rain.
Both the melting of ice and the downpour of spring rain in Edmonton can cause rust to spread quickly on your car. If you value the beauty of your car, you certainly need to avoid rust. But the greatest problem with rust is that it significantly devalues your car. So preventing and limiting rust should be one of your biggest priorities.
3. Tire Troubles
It is no secret that the temperatures in Edmonton's spring fluctuate between hot and cold. This can affect your car tires. Irregular temperatures cause tires to expand. And this can lead to internal damage or tire pressure problems. Hence, you need to check your car's tire pressure regularly.
Poor tire pressure could lead to the loss of a significant amount of gas mileage. That will definitely affect the value of your car. Additionally, it could lead to you getting a flat tire on the road at the most inconvenient time. Not to mention the fact that a flat tire could result in you getting into a serious accident. Protect your tires from the effects of Edmonton's spring by checking them regularly for loss or pressure.
4. Windshield Worries
Have you ever noticed the number of cars with cracked windshields on Edmonton's roads? Cracked windshields seem to be a big thing here. And many cracks get worse in spring when the temperatures flit between hot and cold.
Warmer days on Edmonton's highways mean that more gravel will be tossed on your windshield. Then one tiny dent received one afternoon could become a long stripe on your windshield by the next day. Hence, you might need to repair or replace your windshield. Sometime in Edmonton's spring. A cracked windshield compromises your safety on the road because it reduces your ability to see clearly.
Is our spring wreaking havoc on your car? Bring it by the experts at Freeway Autobody today for a free quote!