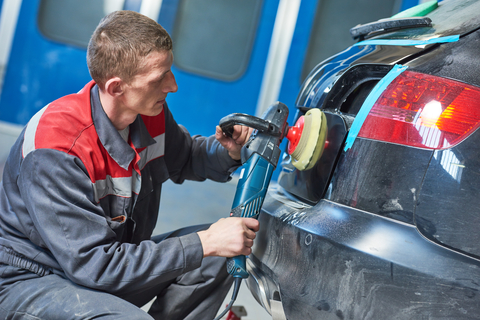 Posted by Freeway Auto Body on Oct 30, 2019 in Blog
Our vehicles are precious investments and whether you are preparing for inclement weather, or avoiding collisions with other drivers, you try your best to avoid any auto body damage.
Unfortunately, dings, dents, scrapes and other more serious forms of damage can occur to your car.
Learn about the most common types of auto body damage and how Freeway Auto Body can help restore your vehicle to its original condition:
Weather Damage
When you live in an area like Edmonton, you have more to worry about weather-wise than simply rain and snow. Weather phenomenon such as hail and high winds can have damaging effects on your vehicle.
Hail storms, which consist of large pellets of ice falling from the sky, can cause significant denting to the roof and hood of your car as well as cracked and smashed windshields.
In August of 2019, a hail storm that hit the Edmonton area caused an estimated $90 million worth of insured damages to houses and vehicles.
Wind storms can also cause dent and windshield damage by blowing branches and debris around.
In order to avoid damages caused by severe weather, try to park your car away from any open walls or in a covered garage. If this isn't possible, cover your vehicle with heavy blankets and comforters to protect it from hail and blowing debris.
Dents and Dings
Although the two terms are commonly used interchangeably, dents and dings are two distinct types of damage that can occur to your vehicle.
Dings are considered to be any damage that is ½ inches in diameter or less. They don't chip the paint or leave the bare metal exposed to rust. The most common dings occur in parking lots when another driver's door hits yours.
Dents are bigger than ½ inch and usually cause damage to the paint and metal.
Dings are more of an aesthetic issue and mostly affect the resale value of the car. Dents, on the other hand, may compromise the safety of the vehicle by contributing to rust and damage to the inner structure of the bumper.
To repair dents and dings, body filler is typically used to address dings and minor damage while more serious dents may require replacing the panel.
Freeway Auto Body specializes in paintless dent repair, a low-cost process that involves carefully pushing the dent back out using special instruments on the front and back of the panel.
Paint Damage
Paint damage is typically caused by dents but can be caused by rocks, road salt, bird dropping, and dirty cleaning cloths. In most cases, it is considered "cosmetic damage".
The exterior of your vehicle consists of primer, paint and a clear coat that protects the metal underneath the paint. Surface scratches constitute those that do not reach the primer of the vehicle's paint job and can usually be fixed easily with a quick buff and touch up paint. They mostly affect the value of your vehicle.
Deeper scratches, if left unrepaired, are exposed and vulnerable to water, dirt, road salt, and debris. These substances can potentially reach the metal and lead to rust.
Here at Freeway, we offer natural and seamless paint matching using our technician's trained eyes and the Azko Nobel Mixit colour matching system.
Rear End Damage
Did you know that rear-end collisions are the cause of 25% of vehicular accidents in Canada?
Most rear-end collisions are not serious and the resulting damage to the rear-ended vehicle is usually not serious either. Typically it results in broken tail lights and a cracked bumper.
However, even minor damage can cause more serious underlying issues such as trunk malfunctions, misaligned wheels and electrical problems.
If the body of your vehicle is cracked or the frame bent due to a rear end, or even a front end, collision, you will have to address the issues immediately. Ignoring this type of damage can lead to more serious issues and compromise the safety of your vehicle.
Using advanced tools and equipment, Freeway Auto Body can repair collision damage including conventional and unibody frame repairs.
Windshield Damage
The term windshield damage incorporates a variety of different types of cracks:
Stress cracks from temperature changes;
Edge cracks that are found within 2 inches of the edge of the windshield;
Float cracks that begin in the middle of the windshield and;
Crack chips that occur at the impact point and radiate less than ¼ inch in diameter.
Whether a windshield needs to be replaced or can be repaired depends on the nature of the damage. If a crack or chip is larger than 3 inches, a replacement is likely necessary.
Replacing a windshield involves removing the entire windshield and installing a new one. If a windshield can be repaired, a professional technician can clean out the dust and debris from the crack, prepare the area with a drill and inject a clear resin material. It is then allowed to cure before being polished.
If your vehicle is in need of a new windshield or windshield repair, contact Freeway Auto Body for a free estimate.
Our Repair Process
No matter the extent of the damage your vehicle has endured – if it can be fixed, our auto body specialists will fix it.
Our repair process is simple and comprehensive. It begins with an inspection and estimate and ends with delivering your repaired vehicle. You can learn more about our process here.
For more information on common auto body damage, and how Freeway Auto Body can help with repairs, contact us today!