Posted by Freeway Auto Body on Jul 15, 2018 in Blog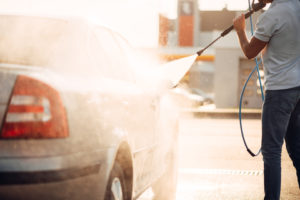 Canadian winters are harsh us and – if it's even possible – harsher yet on our vehicles. The freezing temperatures, slushy roads, and constant bombardment of salt are a recipe for disaster, both for the exteriors and for the interiors of our cars.
By the time summer (finally) rolls around, our vehicles are in desperate need of some pampering.
Whether you look forward to getting out on the driveway and shining your baby up for the upcoming season, or you dread the tedious chore that awaits you, it's a job that needs to get done nonetheless.
To help you make the most of your time, effort, and money, and ensure that the job you've done is as effective as possible, we've thrown together some top tips for washing your car this summer.
Avoid the Sun
Wait… what?
Typically it is the warmest, sunniest days where you will find the majority of people out on their driveways paying some extra special attention to their cars or bikes, but unfortunately, these nice sunny days are actually the worst time to give them a wash.
The sunlight can actually cause annoying water spots and ugly swirl patterns on the finish of your car.
To avoid these unwanted blemishes, it's best to wash your car on a cloudy or overcast day, or, if it is a sunny day, to park your car in the shade while you clean.
Use Quality Products
You are cleaning your car – so use products that are made for vehicles.
Using cleaning products that are meant for other uses, such as dish soap, glass cleaner, etc. might be great for your kitchen or bathroom, but may contain chemicals that can actually damage your vehicles paint, interior finish, or window tint.
Not only should you be picky in regards to the cleaning agents that you are using, but the tools you use also play an important role – try picking up some wash-mitts and soft material towels designed specifically for washing vehicles in order to prevent scratches or smear marks.
If, in any event, you are unsure of what products you need and which brands are the best quality, value, and type for your vehicle, you can always ask an expert at your local automotive retailer.
Clean The Whole Car
Don't just give the outside a quick spray down or do a quick dusting of the dash.
If you want your car to look it's best and you want to prevent as much wear and tear as possible, our advice to you is to give the entire car a good cleaning. This includes cleaning the windows, wiping the headlights, rinsing the rims, and vacuuming the seats – it may not be fun, we know, but it will be worth it in the end.
On top of cleaning, you should also give the exterior a fresh coat of wax to prevent corrosion, rust, and scratches, as well as using protective finishers on both the upholstery and plastic surfaces inside of the car to avoid scratches and/or stains.
A clean car not only looks good, but will save you money in the long run – do yourself, and your car, a favour and put these tips to use next time it's time for a cleaning.
If you have any questions about cleaning your vehicle, contact us today at Freeway Auto Body.