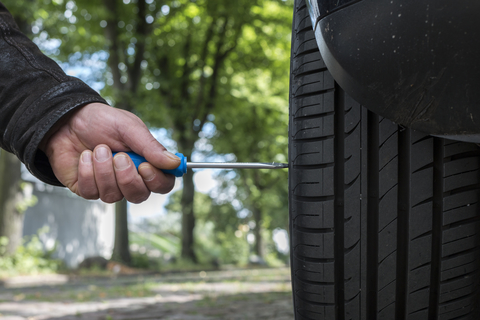 Posted by Freeway Auto Body on Dec 15, 2018 in Blog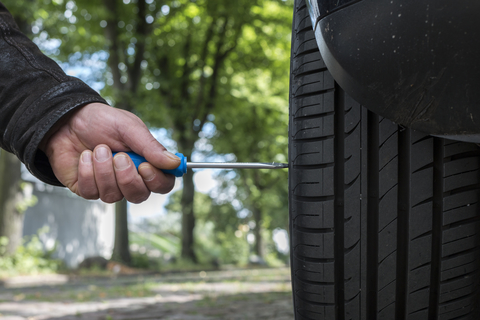 One crime that people often don't think about until it happens to them is vehicle vandalism. While it tends not to make front page news, the reality is that vandalism costs Edmonton drivers thousands of dollars every year. Taking a look back at 2018, we'll address some of the year's most common vehicle vandalism issues. We have also put together a quick and easy guide for what to do if you find yourself a victim of vehicle vandalism.
Gas Theft
When fuel prices climb, so do the number of gas thefts. While some may believe that fuel theft is more of an inconvenience than a serious crime, the reality is that it can cost victims thousands of dollars! Thieves typically drill holes in the victim's gas tank to quickly drain and collect the gas from the vehicle. In Edmonton, city police dealt with a string of gas thefts in early 2018. Dozens are drivers were impacted by thieves who used this exact method for stealing gas, costing thousands of dollars in vehicle repairs.
Slashed Tires
Slashed tires may seem like an overly dramatic plot point from a teenage drama, but slashed tires happen in real life too. Slashed tires almost always come as a set, meaning that throwing on your spare probably won't be an option. While flat tires resulting from nails or other punctures can usually be repaired, the same cannot be said for slashed tires. Often times the slash is too large to be patched. If the slash is on the tire's sidewall, there's no chance of repairing it either. At that point the structural integrity of the tire is compromised and it needs to be replaced. Depending on your vehicle and the type of tires, you could be looking at a thousand dollar investment.
Unlike motive-driven crimes (gas theft and stolen tires), slashed tire incidents tend to be concentrated in a small geographic area and take place over a relatively short time span. Typically slashed tires take place on a select number of streets or around apartment or condo complexes, where vandals can hit a large number of vehicles in a short period of time.
Stolen Tires
In the same realm, having your tires stolen is incredibly frustrating. This can be a bit of a two-for-one. First of all, you have to replace the stolen tires. Secondly, if the thieves weren't kind enough to leave your vehicle propped up on blocks, you could be left with some serious damage to the vehicle frame, axle, and suspension.
There tends to be interesting trends around stolen tires, where thieves target specific vehicle makes and models based on market demand. In October 2018, there were a number of Dodge Journeys targeted for tires on the city's north side. While this type of crime is one of the most expensive and inconvenient for drivers, EPS says that it's relatively uncommon in Edmonton.
General Vandalism
Smashed windows and windshields, "keying", and even graffiti all fall into a category of their own. Much like slashed tires, these sorts of acts are often part of larger vandalism sprees with no clear intent or target, making them just that much more frustrating for victims.
In June and July 2018, EPS dealt with a vandalism spree affecting over 50 individuals in neighborhoods throughout west Edmonton. Vandals smashed car windshields and residential windows with stones and patio blocks, causing hundreds of thousands of dollars in damage.
What To Do
File a police report
First things first, report the incident to police. Even if it's something you believe to be minor, you should always file a report in case it's a part of a larger vandalism spree. The EPS allows you to file police reports online or through their app, so there's no need to go into a police station.
Be sure to take pictures of the damage as well as any tools or other items that may have been left behind by the criminals. Write down as many details as you can about the incident including the time, date, and location it occurred. All of this can help police find the suspects.
Contact your insurance company
Depending on the incident, you may be covered for some or all of the damage. A police report is usually required, so ensure to take care of that right away! Remember that the sooner you can sort out the paperwork side of things, the sooner your vehicle can get back to driving condition.
Have your car repaired
Your insurance company may provide a list of recommended repair shops, but don't be afraid to look around and see where you'll get the best value and highest quality of service.
Take precautions
While it's not always possible to avoid acts of vandalism, there are a few ways of minimizing your chances of being a victim. Utilize your home's garage if possible, especially at night. If you need to park on the street, try to do so in a well-lit area. If you're away from home, park in well-trafficked areas or areas that are under surveillance.
Keep your own eyes open for suspicious activity as well. Reporting something suspicious can prevent you as well as countless other drivers from dealing with the consequences of vehicle vandalism. A quick phone call can save you and others thousands of dollars in damages.
Vehicle vandalism is frustrating and inconvenient, but the repair process doesn't have to be. Freeway Auto Body has been providing expert auto repair services since 1969. We pride ourselves in offering quick, affordable repairs that you can trust. Contact us today for a free estimate!